THE RIDE
Wow....where to start? When my mom found a flyer advertising the local BMX track when I was 7 years old, I don't think anyone in their wildest dreams would have envisioned what was going to come next. From a kid who enjoyed riding his bike at age seven, all the way to the Olympic games, what a ride it has been! I've been lucky enough to travel and compete all around the world, meet amazing people from all walks of life, and represent my country on sport's biggest stage. It has been one heck of a ride!
It all started when my mom found a flyer at a local bike shop. She had gone there to get something fixed on my bike and saw a flyer advertising the Las Vegas BMX track Nellis BMX. The next week we went out there to try it and instantly I was hooked. From that first day, all I ever wanted to do was be a pro BMXer. When I wasn't riding BMX, I was watching it, and when I wasn't watching it, I was thinking about it. At age eleven, I stopped playing all other sports and focused only on BMX. My amateur career was decent, but definitely had its ups and downs. It started off slow when I was younger, but picked up towards the end when I was around 14. At age 16, I earned my first USABMX National Age Group title, and I would end my amateur career with 3 total N.A.G. #1 titles. When the International Olympic Committee announced in 2005 that BMX would be added to the Olympic program, competing for my country and winning a medal became my major goal.
After a knee injury forced me to miss the first half of the 2011 season, I decided to turn pro upon my return in mid 2011 and really made a full commitment to try and make my dream a reality. I am now nine years into my pro career and still love it as much as I did when I was that young kid who would ride until the street lights came on. BMX truly is in my blood. Throughout my career my parents have been my biggest supporters and I have also been blessed to work with some amazing coaches, sponsors, and supporters.
When I am not racing, I am a part time student at University of Nevada Las Vegas. I started going to classes in 2013 and aim to graduate by 2020 with a degree in business. I am a huge fan of all sports and love watching them in my spare time. I watch every Vegas Golden Knights hockey game and every round of the AMA supercross and motocross season. I am also a decent fantasy football player, although the other members of my leagues would tell you I'm not very good. I am actively involved with St. Jude's Children's research hospital and Make a Wish Foundation, and try to give back on the local level any chance I get with different fundraisers or school visits.
THE BIKE
Nothing feels more natural to me than being on my bike. I've always felt that way, and I would say it feels more natural being on two wheels than on my own two feet! I have ridden a Chase bicycle since I first turned pro in 2011. Here are the specs of the bike I am currently riding:
Sprocket: Elevn
Bottom Bracket: Shimano
Brake Caliper: Shimano DXR
Brake Leaver: Shimano DXR
Pedals: Simano DXR
Front Hub: Onyx
Rear Hub: Onyx SS
Rims: IKON
Tyres: Tioga FSTR BLK label 1.75″
Plate: Tangent #11
Frame: Chase Act 1.0 Carbon XXL+
Forks: Elevn PRO 20mm
Bars: Elevn G2
Stem: Elevn
Grips: ODI 'Vans' Edition
Headset: Elevn
Seat: Elevn pivitol
Seat Post: Elevn Aero Carbon
Seat Clamp: Elevn
Cranks: Shimano DXR 180mm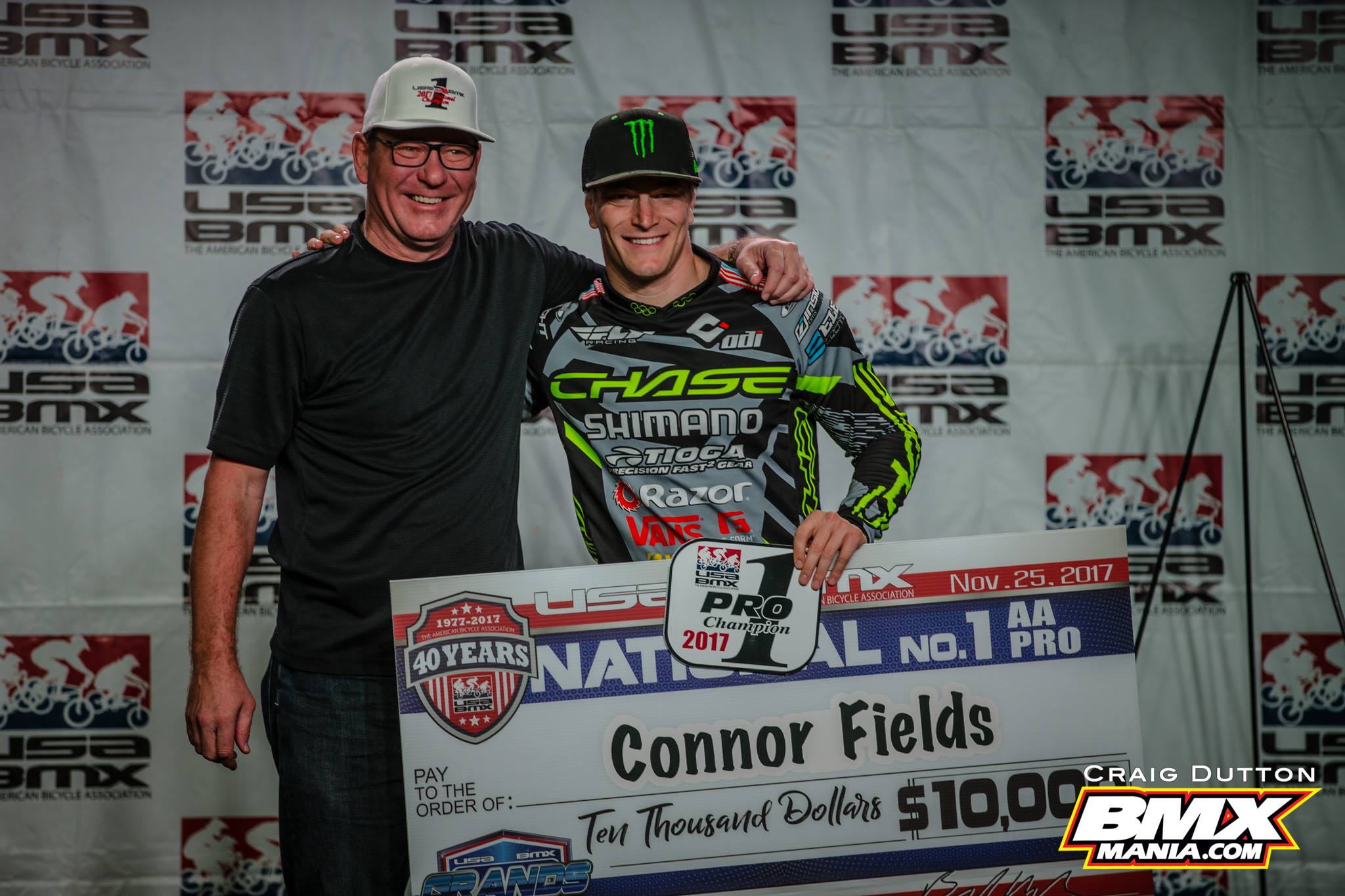 THE STATS
Career stats as a professional through the July of 2019
OLYMPICS
Olympic Gold Medal, 2016

2 time Olympian (2012, 2016)

2 time Olympic Finalist

2012 Team USA Olympic Trials Winner
WORLD CHAMPIONSHIPS
2 time Time Trial World Champion (2012, 2013)

9 time Team USA Team Member (2010, 2011, 2012, 2013, 2014, 2015, 2017, 2018, 2019)

4 time Elite World Championship finalist
PAN-AMERICAN GAMES
2011 Pan American Games Gold Medalist

2 time Pan-American Games Team USA member (2011, 2015)
UCI BMX WORLD CUPS
2013 UCI BMX World Cup series Champion

4 time top 3 overall UCI BMX World Cup Series (2010, 2012, 2013, 2017)

6 World Cup wins

13 World Cup Podiums

Youngest Rider to ever podium a UCI BMX World Cup (Chula Vista, 2009, 17 years, 5 days)

Winningest World Cup time trial racer of all time (10 wins)
USA BMX
USA BMX #1 pro (2017)

Top 3 Overall USABMX Series (2012, 2013, 2014, 2015, 2017, 2018)

115 Main Events

85 Podiums

29 Wins

Grand Nationals winner (2017)

7 Consecutive Grand Nationals Elite podiums (2012, 2013, 2014, 2015, 2016, 2017, 2018)
USA CYCLING NATIONAL CHAMPIONSHIPS
National Champion (2012, 2014, 2016)

Top 3 (2012, 2013, 2014, 2015, 2016, 2017)
OTHER
North American Continental champion (2014, 2015)

Red Bull R.Evolution Champion (2013)